ONE CHARLESTOWN is the complete redevelopment and revitalization of the Bunker Hill Apartments, transforming New England's largest federal housing project into 13 blocks of mixed-income housing. The project will create new buildings and well-lit, tree-lined streets that restore important connections in the neighborhood. All 1,100 affordable apartments now on the site will be replaced, alongside new market-rate units, neighborhood shops, restaurants, and community spaces.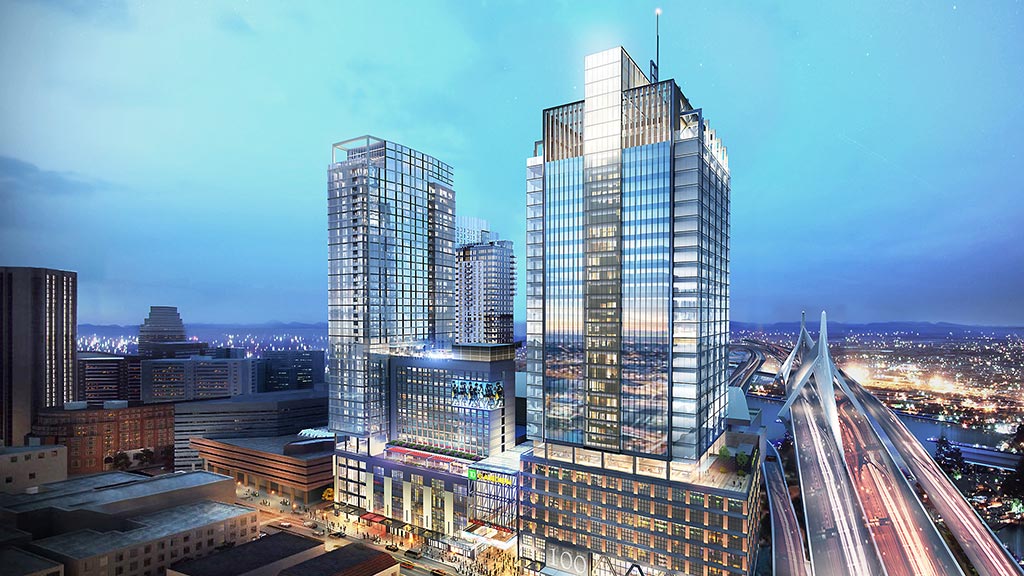 Hub on Causeway is a major mixed-use development by Boston Properties & Delaware North on the site of the old Boston Garden, next to North Station.  Hub on Causeway will feature over 1.8 million square feet of shops, restaurants, offices, hotel and residential space.  Ground was broken in January 2016 and Phase 1 of Hub on Causeway is expected to be completed in 2018.  The project will expand both TD Garden and North Station, as well as bring the largest grocery store and movie theater to the city of Boston.
Millennium Tower, developed by Millennium Partners with architecture by Handel Architects, rises 60 stories above Boston to become the city's tallest residential building. Millennium Tower's signature location encompasses the Summer Street to Franklin Street block of Washington Street in Boston's booming Downtown Crossing District. The building will offer residents five-star services and amenities, including 24-hour concierge and valet service, fully equipped state-of-the-art fitness facility, indoor lap pool and spa, cinema, private dining room, billiards room, and a fully serviced residents lounge with bar and food service.
L Street Station Boston Condos. The pink- and red-brick Boston Edison plant for years has stood vacant at the corner of East First and Summer streets at the edge of South Boston's City Point area. Redgate Real Estate and Hilco Redevelopment Partners, the joint-venture team tackling the project, opened up the site for community tours prior to officially kicking off the project's development-review process with the city.
Pierce Boston is not only an architectural standout, it is re-imagining life in one of the nation's most storied cities, with its soaring panoramic views and walls of shimmering glass.
Fenway is a community that's rewriting its story. The neighborhood is evolving at an unprecedented pace while maintaining just the right amount of its authenticity and history. A wide variety of concept‑driven restaurants and celebrity chefs are quickly making it Boston's "foodie" destination. World‑class culture, celebrated green space, innovative industry, progressive health care institutions and eclectic shops have put it at the top of Boston Magazine's list of "The most in‑demand neighborhoods in Boston". Samuels has been investing in The Fenway neighborhood for over 20 years. Their philosophy is that development is much more than creating new spaces. It's about creating rich communities.
Alloy Assembly Row Condos. In a premier hotel-connected residence such as Alloy, you'll enjoy privileged access to luxuries like the pool oasis and modern fitness center. Pamper yourself with a range of hotel services, many of which are available at special rates for owners of Alloy luxury condominiums.  And the advantages extend beyond your four walls, with special offers throughout the year on Assembly Row restaurants and shopping.
City Square Worcester Condos will be built in two phases. Construction on the first phase began in February and will include 237 market-rate rental apartments, spaces for stores and a garage. It will feature a mix of studio, single- and two-bedroom units. Developers expect to complete the first phase in late 2017.